Thinking about remodeling your kitchen cabinets? We have put together some affordable examples to help you decide the best look for your kitchen.
The kitchen is without a doubt the most evolved, and some would say the most important, room in your home. It's almost hard to imagine now but kitchens used to be for cooking. It was a workspace that most of us were told to stay out of until dinner was ready, and to prevent children from standing in front of an open refrigerator door staring, willing our favorite dish to mysteriously appear while mom or dad was busy making something else. If you own an older home (for instance, if your home was built between 1930 and 1970), you might have a smaller kitchen, separated from the dining or living room, that could be closed off to hide the potential mess and prevent the smell of cabbage, fish or onions from wafting throughout the house.
The kitchen is no longer meant for one.  It is where we hang out with friends and family, cook and dine together, discuss the day's events, make grocery and to-do lists, pay bills and feed pets.  We started to think about our crazy busy lives and wanted a functioning space to better accommodate a living place where crowds big and small can gather together. We opened the kitchen up to the rest of the house, creating a natural flow to help prevent traffic jams as people and pets come and go.  Newer homes were designed with larger kitchens that functioned as a space for living and entertaining. Even those with an older home are thinking of new ways to make smaller kitchens look like they've been given a makeover by concentrating on the room's layout, design and functionality.
See through cabinets or open shelving have become just a few of the most elegant and simple ways to update the look and feel of your kitchen. Organized, clean and simple, the addition of either can easily provide a more streamlined, more modern feature to a kitchen remodel. If you're undecided on which is the best look for your home, we've put together a slide show with some stunning examples!
There are two camps-those who love open shelving and those who feel like they might be a little too high maintentance. Glass shelves are a great compromise if you don't want to fully commit to open shelving and all you have to do is replace the cabinet doors!
Glass Shelving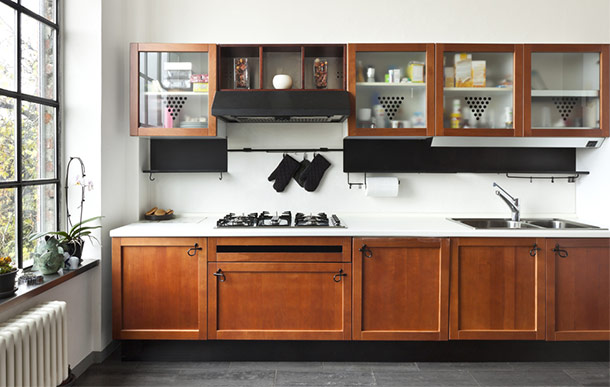 Beautiful upper glass cabinet doors are framed in the same wood as the solid cabinets below, adding a uniform look that is sleek and stylish. You can even add a special graphic to the glass that mirrors the color and feel of your kitchen.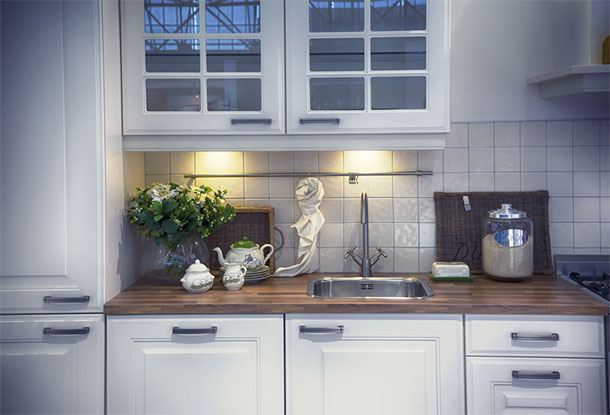 Even just a few glass cabinets that are well lit can add some sparkle and open up a small service space such as a bar or chef's sink.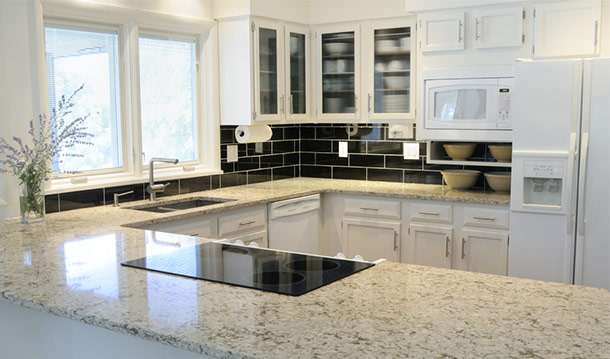 Perfect for any kitchen size, glass cabinets are particularly beautiful in smaller spaces. They lend a look that is light and airy and are perfectly placed next to windows.
Leave room for a small bookcase or shelf to showcase cookbooks and special accessories you want to show off to your guests! Next to a bar, this is perfect for easy-to-reach items that are used every day such as drinking glasses or coffee mugs. The possibilities are endless!
Open Shelving
Open shelving is quite controversial in the world of kitchen remodels. Some really love a more informal, relaxed look and others are terrified of having to constantly keep shelves and dishes clean from dust and cooking splatter. Open shelves add a visual contrast to a traditional kitchen and are a perfect way to break up the monotony of wood and stainless steel.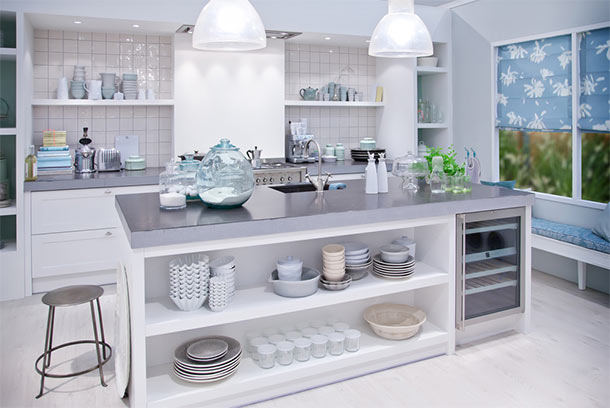 Uncluttered open shelving feels warm and friendly—guests can help themselves to wineglasses and dishes without having to interrupt you as you are getting dinner ready.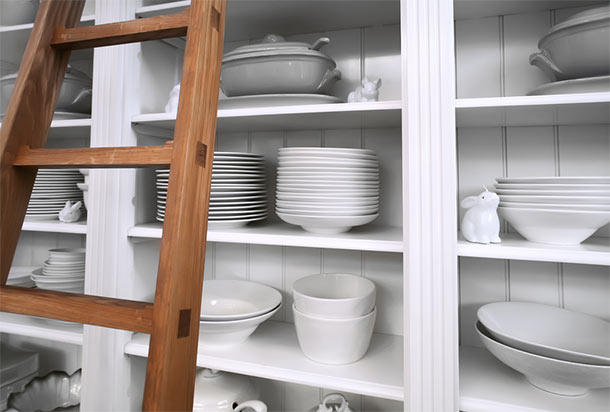 Here is a sort of hybrid to the glass cabinets and open shelving. It's a striking way to put all of your ceramics and china on display! Without the glass, dishes can be easily accessed while remaining protected from dust and grease. Add a few personal touches for character and warmth.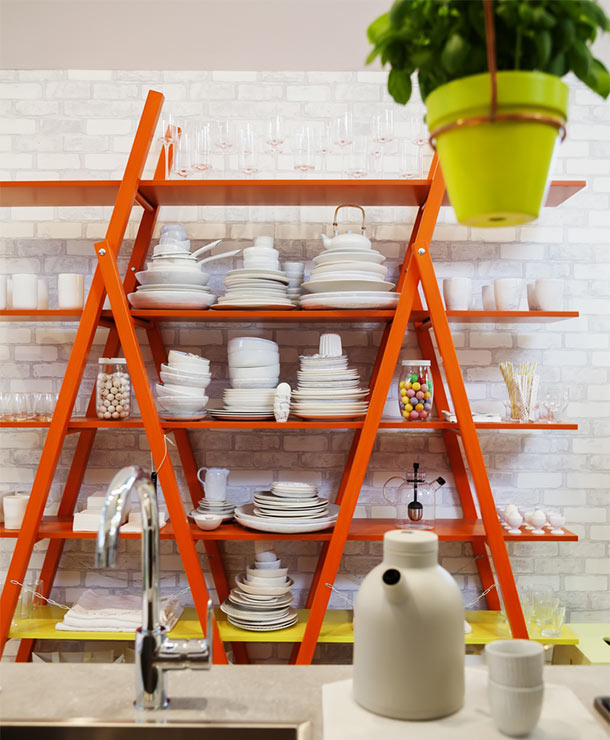 Using all white highlights a dramatically dark countertop and splashes of color here and there really stand out. Open shelves can make a small room look and feel bigger.
If you love the idea of open shelves but remodeling the cabinets seems a bit too expensive and difficult, creating open shelving out of an industrial workspace is a creative alternative. You can still show off your beautiful kitchenware or pots and pans and it's a great way for cooks to easily access the tools they need!
In an all-white kitchen open shelves perfectly highlight accent pieces and colors, and a window in between gives the space a garden-fresh and bright new look.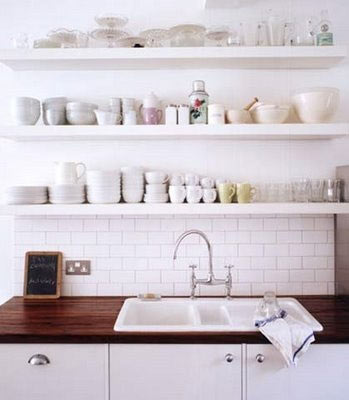 Using all white highlights a dramatically dark countertop and splashes of color here and there really stand out. Open shelves can make a small room look and feel bigger.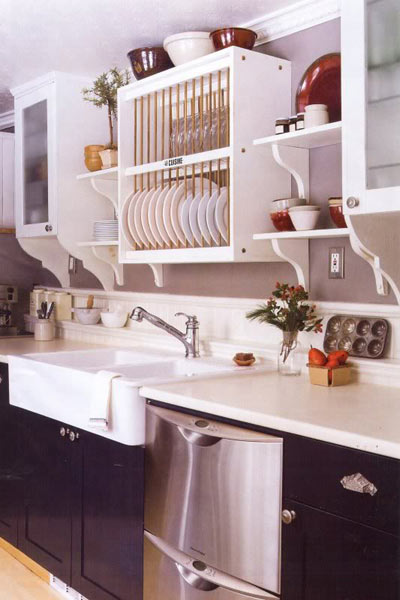 Just a fun example of an easy-to-install cabinet for displaying everyday plates or collectibles that you want to safely show off to your friends!