People tend to play and gather outdoors more often in the summertime, so you want your gardens, flower beds, and landscaping to look their best. This is harder than it sounds because "summer" means different weather conditions depending on the climate you live in. For instance, the elements that make up beautiful landscaping in Texas may produce subpar results in California or New England.
With this in mind, here is an overview of what goes into "summer-proof landscaping" in various climates.
Plants, Flowers, and Other Flora
For most people, greenery and colorful blooms are the most desired aspects of their landscaping. If you live in a climate that is hot and humid during the summer months, you should be sure to select flora that will flourish in these conditions. Annuals like white snow princess alyssums, purple-and-fuscia Wendy's Wish salvia, and multihued Gerber daisies will provide the color. Accents can be provided by feather fountain grass, Southern Belle flowers, and homerun rosebushes.
If your summers are punctuated with a lot of rainfall, then your landscape plant selections will vary. In soil that is wetter than normal, you may want to go with bearberry plants, New England asters, or sheep laurel for color. Blue flags, marsh marigolds, and cardinal flowers will grow in very wet conditions near creeks or even in swampy ground.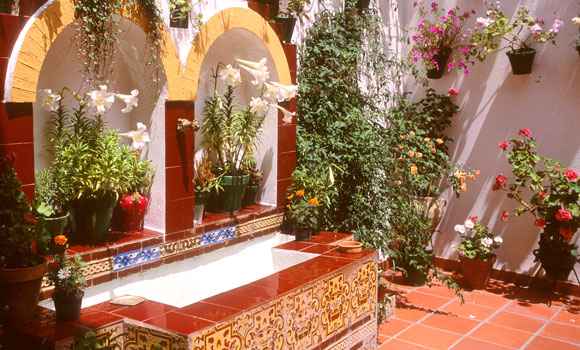 You can go tropical in certain climates.
Hot and dry climates need plants that will thrive without a lot of water. Luckily, there are plants like oleander, baja fairy dusters, vinca, and certain types of lantana that will bloom beautifully despite the harsh summer weather. Taller plants like ocotillo, red yucca trees, and Mexican bird of paradise will remain sturdy and even provide a little shade.
Irrigation and Drainage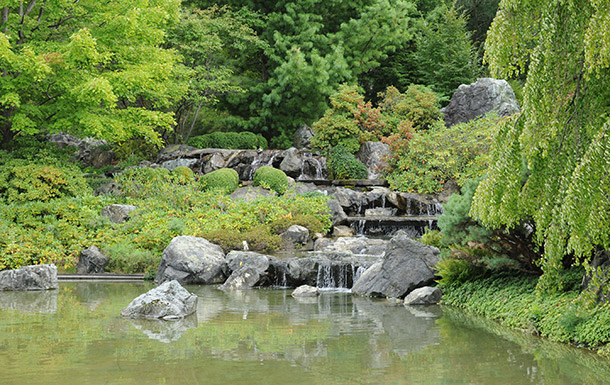 Of course, even the right plants won't grow if it doesn't receive the necessary amount of water. You need to make sure that you water and irrigate these areas properly. Overhead watering with automatic sprinklers is generally the most affordable option if you operate these systems on a strict schedule. Micro-irrigation lets you install smaller sprinklers near the plantings themselves, while drip irrigation involves running small tubes in the ground through your landscaping. Whatever option you choose, be sure that the water drains correctly to avoid overwatering plants or facilitating landscape deterioration.
Hardscape
Finally, many gardens and beds can be complemented with the thoughtful use of hardscape. Strategic use of pea gravel, rock mulch, or river rock can provide natural separation between landscaping areas, especially in climates with smaller than average rainfall totals. You can even create walking paths made with classic bricks or square paver stones, or simply use gravel bordered by larger rocks to accomplish the same goal. If you want to jazz up these pathways, you can opt for multi-shaped pavers pushed together for character or you can space square stones apart and either sprinkle gravel into the spaces (or allow grass to grow around them if properly irrigated). For sloped areas, hard stones walls and borders as well as stair-stepped paths with gravel and wooden ties may help you create a multilevel landscaping plot that is functional and aesthetically-pleasing.
When it comes to summer landscaping, there is no one-size-fits-all solution for everyone. However, if you know which landscaping components are best suited for your climate, you can create a gorgeous yard that will prosper throughout the summer months. Consider contacting a professional landscaper or contractor to do it right the first time! End
Chris Martin is a freelance writer about fun summer topics ranging from travel to landscaping to home improvement.
More Outdoor Living Articles