We don't often think about driveways, but there are quite a few ways to make your driveway more attractive and give your home more curb appeal. Here are a few ideas to improve the red carpet to your home.
Landscaping
Start with the landscaping on either side of your driveway. For example, you might plant some hedges along one side to create an attractive natural fence. Plant flowers on either side of the driveway to offer some color for those driving up to your home. Or put some trees in your driveway to create a nice, shady way up to your door that keeps the sun off.
Lights
There are dozens of lighting options for your driveway, ranging from lights embedded directly in the pavement to modest post lights that help create a certain ambiance for your driveway. More than just making your driveway attractive, though, lights can make it safer by illuminating a clearer path to your garage and helping friends and family who may not know the area better spot your home.
Pavers
Pavers are, by far, one of the most flexible ways to bring character to your driveway. They come in a wide variety of colors, allowing you to pave your driveway in one color or create alternating patterns. Careful paver placement gives you far more options to landscape and add plants to give your driveway a more natural look. And repair is as simple as pulling the paver out and replacing it with a new one. Just be sure, before installing, that the pavers you've selected are rated to handle the weight of your car. Otherwise you may have to replace them sooner than you think!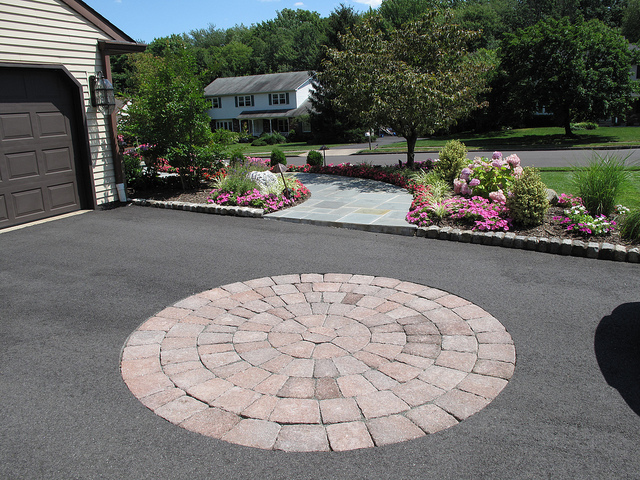 Photo credits: Gregs Landscaping
Gravel
A gravel driveway is a classic, of course, and it has benefits beyond just looking attractive; repairing a "pothole" in a gravel driveway is as simple as adding more stones and raking them to place the gravel properly. Be aware that in order for a gravel driveway to be fully effective, it will need to be carefully graded and your drainage will need to be assessed. You might also look into chip-sealing, a method which creates a similar effect, but with less maintenance work.
Ribbon Driveway
A ribbon driveway has a strip of grass running up the middle of the driveway, to give it a nice sense of landscaping and a greener feel. This is an especially good choice for narrower driveways where it may not be possible to do much landscaping.
Dye Your Driveway
You wouldn't expect concrete to take to dye, but it can. In fact, dyes are often a better choice than stains, which can change the chemistry of calcium hydroxide. Dyes are also long-lasting, thanks to how they're designed; they fill in the pores of concrete. Just be sure to use a UV-resistant dye to prevent fading.
There are many, many ways to improve your driveway, so speak to a contractor: You never know what you can do for the red carpet to your home. End