Summer is a wonderful time for getting together with friends. You might even have thoughts of hosting an outdoor gathering at your place. But those notions are quashed once you really look at your bland, bare, uninviting slab that only a delusional realtor would call a "patio."
Maybe you should remodel your patio space before you start planning parties. Here are some suggestions that will get your friends talking:
Build out your grill area. Construct a platform, run a gas line to it (and maybe even plumbing), and build in space for counters, cold beverage storage, and of course a grill that's ten times better than that cheap little charcoal unit from a big box store.
Think water. A fountain, water feature, koi pond, or even a mini-moat would be a signature accent for your patio. Water elements define your patio space and make it more tranquil and decorative.
Cover it up. A pergola (also called an arbor) is a freestanding wooden structure with horizontal crossbeams to support shade cover and/or foliage. It's more durable and effective than a sun shade or umbrella.
Wall it in. Consider building a low wall around the border of your patio. Not only is it aesthetically pleasing, it can double as counter or seating space for your patio guests.
Add a hint of fire. Fire pits are now available in a wide variety of colors, sizes, and styles. Or you can create your own using small boulders, flagstone slabs, or similar materials.

Add a fireplace so the party doesn't have to end when the sun goes down
Add fire. To extend your party-hosting capabilities, why not install a full fireplace on your patio? Then you can have friends over even when there's a nip in the air.
Take the stairs. If your patio or yard is sloped or dual-level, carving out some stylish stairs will help your patio stand out. Plus, it can divide your patio space in two, giving it the illusion of more space.
Be curvy. Most patios are square or rectangular. Think outside the "box" by fashioning curved borders. Curves are visually appealing, and they help portray your patio as a place to relax and unwind.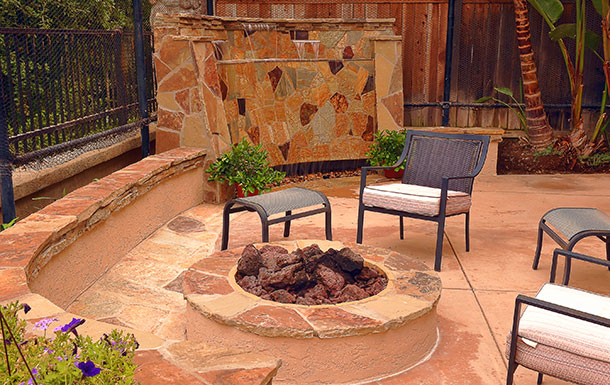 Focus on the home itself. More specifically, your windows and doors that face the patio. Upgrading them or swapping them out for more decorative components will add some pop to your patio.
See the light. Don't just settle for that single weak bulb in your patio light fixture. Run some wiring to other areas for more illumination, or choose solar-power landscape lighting for charm and glow.
Cement the look of your concrete. Simply staining your concrete in a fashionable hue can breathe life into that boring slab. It's also something that can be done in a few days or a weekend.
Furnish it right. No more plastic chairs and dollar-store tables. Invest in some heavy-duty furniture that is comfortable for your guests and will last a long time.
It's great to spend time with friends during the summer. It's even better to impress your friends by having the smartest and most inviting patio on which to congregate.
NEXT STEP: Contact a trusted home contractor today to create the patio of your dreams!
Chris Martin writes about home improvement, auto insurance, consumer finance and many other topics. End
More Outdoor Living Articles