Cabinets are the first thing anyone sees when they enter a kitchen. If walking into your kitchen is like stepping back into another era, and not in a good way, it might be time to think about new cabinets.
A reliable kitchen remodel contractor can help with the overwhelming number of choices. He/she will show you the way to designing a kitchen that reveals who you are, not who you (or someone else) used to be.
New kitchen cabinets can make you happier with your entire home.
Getting the Most Out of Your Cabinets
If your kitchen is rarely the scene of a feast preparation, you can sacrifice efficiency for favor and style. However, a kitchen that's used often needs fixtures that make life easier.
Though base cabinets have more space than their upper counterparts, the space is usually squandered by poor design. All of that cavernous interior space often have only one shelf, forcing pots, pans, mixing bowls and small appliances end up stacked and teetering inside.
Opt for base cabinets that use space wisely with columns of drawers, hidden wine compartments, tall and slim drawers for cookie sheets, appliance caddies, pet food dispensers and household cleaner storage. Upper cabinets have less space, but should offer more than just one shelf.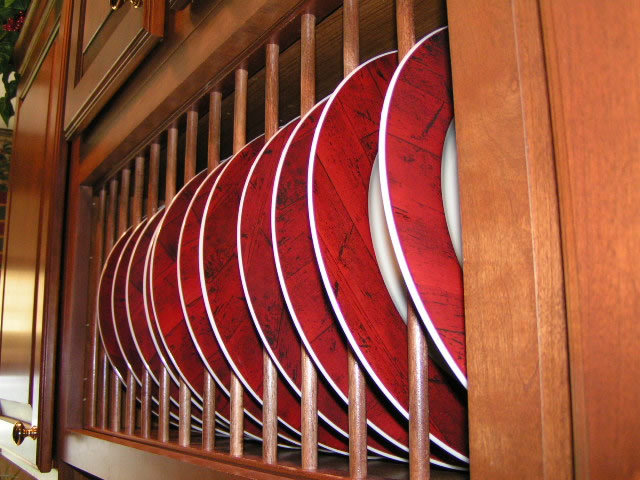 Special features like plate racks help maximize space.
Work with the Theme of Your Home
Kitchen cabinets should enhance, not compete the rest of the house. They might be beautiful, but ultra-modern, flat-front cabinets with no embellishment will likely look out of place in a rustic, country home. If your style is sleek and modern then maple cabinets with a honey-toned finish and fancy trim probably isn't your best option.
If you're unsure about which styles fit with your home, your contractor can guide you. They understand the difference between contemporary and cottage design and can reduce the number of choices to only those that work for you and your style.
Keep track of your ideas and inspiration, and discuss them with your contractor.
NEXT STEP: Get cabinet guidance from a trusted home contractor.
Finishes: What Works and What Doesn't
With so many options for cabinet finishes, the choices can be daunting. Laminate isn't as plain as it once was, and the ease of cleaning makes it worth consideration in busy homes with lots of fingerprints and cooking splatters. One of the downsides to laminate is that you can't refinish it if you get tired of the look.
A deep, dark wood stain works with numerous styles, but can be jarring in a country home. This type of finish would work better in and elegant kitchen. Paler stains or even white paint are better fits for a more casual style.
Stainless steel makes the kitchen look bright and is an excellent choice for streamlined, modern homes with minimal fuss. It cleans up easily and is an exceptional choice for those who take cooking seriously.
Site-Built or Pre-Made?
With so many pre-made cabinetry choices available, you might not consider the benefits of hiring a contractor with cabinetmaking skills. A skilled cabinetmaker can build an entire room of cupboards that fit perfectly in your kitchen and accommodate your needs. Another benefit is that he/she can design cabinetry for other rooms, particularly bathrooms, to make the look cohesive throughout your home. Just make sure to ask forexamples of their past work to find out their level of ability. Keep in mind that not all contractors are capable of cabinetmaking as it requires precision joinery craftsmanship.
The right contractor can take some of the stress out of choosing and installing your new kitchen cabinets. They're one of the biggest investments in a kitchen and they stick around for many years. By understanding your needs, the right contractor can help transform your kitchen from dull to spectacular while minimizing the stress. End