Baby Steps: The ease and value of installing hardwood floors
The thought of remodeling your floors can be overwhelming and daunting but trust us, it's not like it used to be! Flooring consultants of days past tell tales of installing solid wood strips with only a hammer and some nails, one board at a time.  Can you imagine? Gone are the days of having to say goodbye to your home as you move the kids, pets and all of your furniture out and wait at the in-laws for everything to properly dry. Depending on what you choose, more often than not you can be back on your couch the same day and it might only cost you an extra trip to the zoo!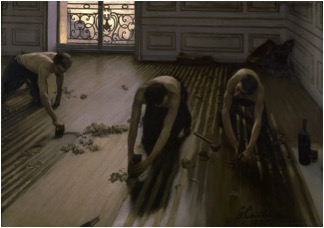 Hardwood flooring installation offers many different choices that will add charm, warmth and value to your home. Solid wood flooring is classic and will last as long as you want it to! There are so many options. Look through our picks for inspiration and let our trusted home contractors help!
Light colored wood plank floors catch the light of the sun in this modern loft and warm up the entire room. The color of the walls and floors complement each other and present many design solutions for your interior.
Dark wood floors are on trend and look gorgeous in any room. Many are choosing a dark wood for the kitchen because they are easy to clean and wear beautifully. You may want to choose a prefinished wood floor with an easy touch-up process which will allow you to touch up without even having to sand the floor.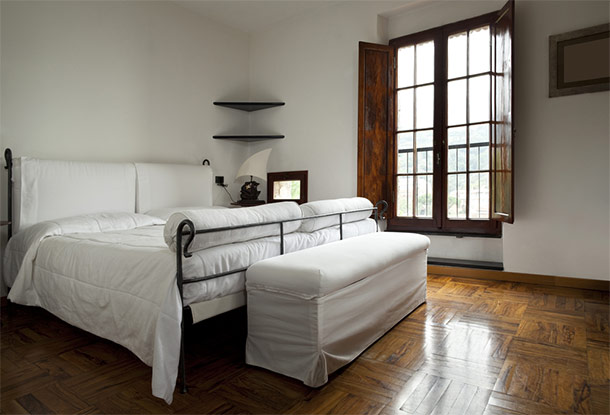 A parquet floor, shown here, is any design that involves a geometric mosaic of angular wood pieces.  A variation on the basket-weave design creates a chic and stylish floor and adds value every time. You won't have to spend money on rugs because you won't want to cover up these beautiful floors!
Intricate patterns mean that it might cost a little more but if it's the only change you make to update your home, it will be worth the splurge. We often think of hardwood floors as Old Reliable, like our favorite blue jeans or worn-in leather jacket but the potential for creating something special is infinite. Here, a darker wood is used to frame light wood floors and the design is used throughout the house to tie the rooms together in a unique and creative way.
Bamboo flooring, a lovely Eco-friendly alternative to hardwood floors, is similar in look and feel to some exotic hardwoods and can have a dramatic effect. The strength of a bamboo floor often depends on how it's manufactured and we can help you determine which floor would best suit your needs!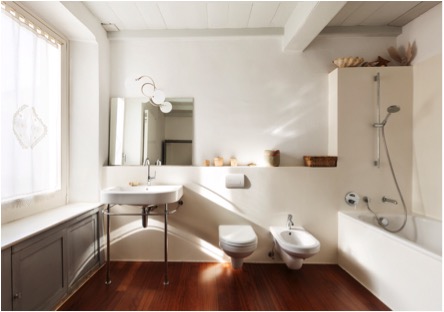 Hardwood floor installation in the bathroom is becoming more and more popular. Updating your bathroom floor can be a highly effective remodel that adds immense value to your home.  With less ground to cover, you can keep costs affordable by working with your contractor to determine which floor will work best.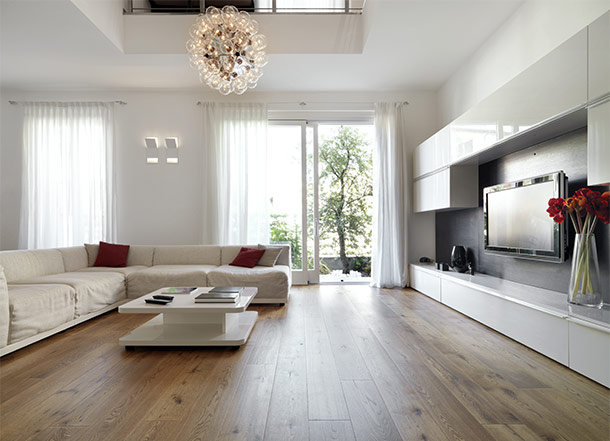 Wide plank flooring adds warmth and beauty to any room and can be used for a more rustic look.  The dramatic character lies in the deep subtlety of its grain and it wears beautifully.
Use a signature piece to determine other colors in the room.  The floors and kitchen tile have been matched to a special pantry door to give some uniformity throughout.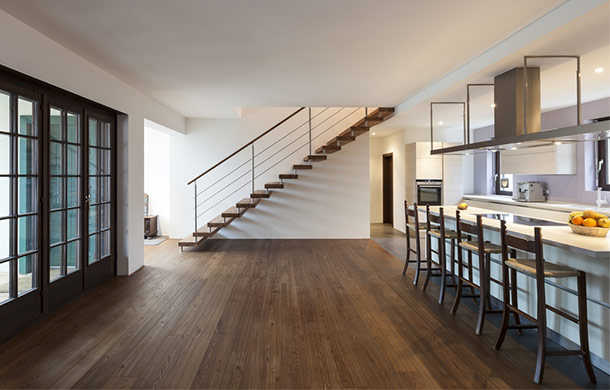 Even when wood planks are installed in a straightforward manner, the look itself doesn't have to be straightforward. Consider achieving a different look by playing with board lengths or install the planks with a random staggering. The staggering can be intentionally patterned so the joints are spaced, for example, in a stairway pattern or with alternating joint alignment for an H pattern.
Reclaimed wood is an elegant choice and when care is taken to preserve the unique characteristics that reflect its former life, the results are stunning.
More Flooring Installation Articles