By Debbie Lockhart
You may have your mind set on updating your backyard with a new brick patio. However, with so many options, which direction should you go? Here are a few landscape design suggestions that will help you decide which direction to go:
Natural Bricks
You have a couple of choices when it comes to choosing your brick materials. Natural brick is made by firing clay in a kiln and provides a natural surface that blends well with pretty much any setting. It may be the most expensive option, but most people agree its natural beauty and coziness is well worth the extra cost.
Sand Lime Bricks
Sand lime brick pavers are made by mixing sand, fly ash and lime followed by a chemical process during wet mixing. The main difference between these and natural bricks is the grey, ashy color. These make a great backdrop to colorful planters, flowers and trees, but are not a statement addition to your backyard.
Faux "Used" Bricks
These bricks are often actually concrete pavers made to look like old common bricks. Some may say they provide a fake efflorescence; others may say they supply an excellent aesthetic presence. They come in a variety of different colors and shades of red and are less expensive than the real deal.
Cobblestone
If you are after a more European appearance for your patio, then cobblestone is the way to go.
Its texture resembles an uneven, naturally paved surface. This is a great option as it will last longer than most other brick options.
Looking for Help? Click to find a trusted home contractor to help you remodel your brick patio.
Brick Paver Patterns
Once you choose which type of brick you want, the next decision to make is what pattern the bricks should be laid in. A simple pattern such as running bond has a timeless, understated look. You can also consider a pinwheel, basket-weave (which is the easiest to install because you may not have to cut any bricks), 90-degree herringbone and 45-degree herringbone.
Add A Pergola and an Outdoor Fireplace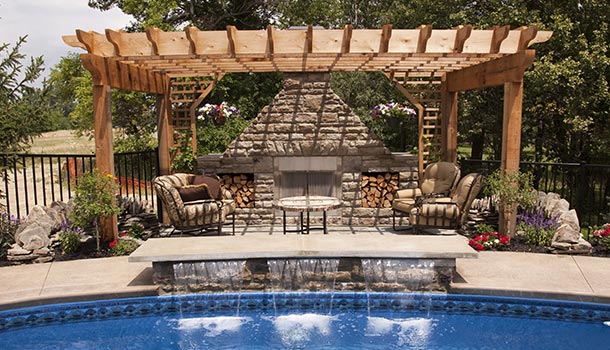 Along with the perfect patio furniture, consider adding a pergola, patio cover or outdoor fireplace to your dream brick patio! A pergola is a freestanding structure with an open roof that is supported by columns or posts. It may be used to cover a walkway or to provide filtered shade for your new creation. A second option that provides shade and/or rain coverage is the patio cover. It may have an open or solid roof. The term patio cover is often used interchangeably with pergola.
For the romantic in everyone, consider adding and outdoor fireplace! There are many styles to choose from, rustic or modern, whether you can cook on it or not, natural wood or electric. No matter what you choose, your new addition to the patio will add beauty, warmth and a great place to gather with your family and friends.
Landscaping Thoughts to Consider
Once you've decided on what type of brick patio to go with, to enhance the new addition, surround your brick patio with potted plants and a well-cultivated lawn! It will definitely make your brick patio pop and truly give you the backyard oasis you've been dreaming of! Contact a Trusted Home Contractor today to make your dream come true! End
More Outdoor Living Articles